We can supply you with conveyor systems and spare parts in standard design or completely tailored to your specific requirements.
Therefore we offer you individual solutions. This applies to every product to be transported. Our trained personnel will also take care of the planning, assembly and maintenance of your conveyor systems, on site if required. Our field service will be pleased to advise you in more detail.
You can obtain conveyor systems from us that are completely adapted to your requirements. These include:
Bulk material conveyor belts
Elevator bucket elevators
Light conveyor systems
L-conveyors
Z-conveyors
Roller conveyor
General cargo facilities
Steeple conveyors
It is particularly important to us that we accompany you, as a competent partner, from the planning to the installation of the plant.
We offer a wide range of idlers and drums. The category of idlers includes, for example:
Standard carrying rollers according to DIN, sprocket rollers, heavy duty rollers, smooth running rollers, brake rollers, accumulation rollers, side guide rollers, buffer rollers, conical rollers, yoke type track rollers, garlands
Our standard rollers are available in various material designs. This includes materials such as:
Steel, stainless steel, plastic
We also offer the following stations for idlers:
Top belt stations, bottom belt stations, steering stations
Falling into the category of drums:
Drive drums, deflection drums, rod drums, constriction drums
We use PEMA UTR scrapers. Because these are characterized by particularly good quality and a reasonable price-performance ratio. They are also easy to handle.
If individual spare parts are required, they can be obtained from us. Furthermore, we offer the installation and maintenance of the scrapers with our installation team.
Our sales department will be happy to advise you on how to ensure that the right scraper is properly installed in the right position and that it is regularly serviced.
If the trough chain conveyors wear out, it is essential to replace all components. That is why we offer all necessary spare parts. We are also happy to take care of installation and maintenance.
Are you looking for a reliable partner who is familiar with the field of rubber-metal bonding? Then you are exactly right with us. This is because we have many years of experience in coating with a wide variety of rubber compounds.
Our areas of operation are as follows:
Textile and fibre industry
Paper and leather industry
Wood and furniture industry
Steel and metal industry
Printing and polygraphic industry
Foil production and finishing
Food industry
Conveyor systems
We use chemical or hard rubber bonds in various materials, such as:
NR, SBR, NBR, EPDM, Silicone, Vulkollan, Polyurethane
The use depends on your field of application!
Your system should function reliably. For this reason we are happy to exchange the corresponding spare parts. Therefore, they receive with us:
Stock
V-belt
V-belt pulleys
Chains
Chain pinion
Timing belt
… and many more
If a high resistance of your transport belts is required,
we offer corresponding wire link belts.
Elevator buckets, belts and components
ELEVATOR BELT ACCESSORIES
Do you need spare parts for your bucket elevator? For this you will find the following
Drive drums
Steel, Stainless steel (V2A / V4A), With rubber coating (optional), With clamping set, Internal bearing, Flat bearing
Deflection drums in the rod drum version
With deflector cone, With worm, With clamping set, Internal bearing, Flat bearing, With rubber lining (optional)
Elevator buckets according to DIN 12531, 15232, 15233, 15234, 15235, system A / B / C
Steel, for example St37 with and without rubber bottom, stainless steel (V2A / V4A), plastic / Nylatron, tinplate, aluminium, galvanized, enamelled, primed, blank
Elevator belts
Rubber or PVC / PU belt, Normal quality, Oil and grease resistant, Antistatic, According to food standard FDA / USDA
Accessories
Bucket bolts, rubber bucket pads, flat half round bars, elevator belt buckle
We will be happy to advise you on this! Just contact us!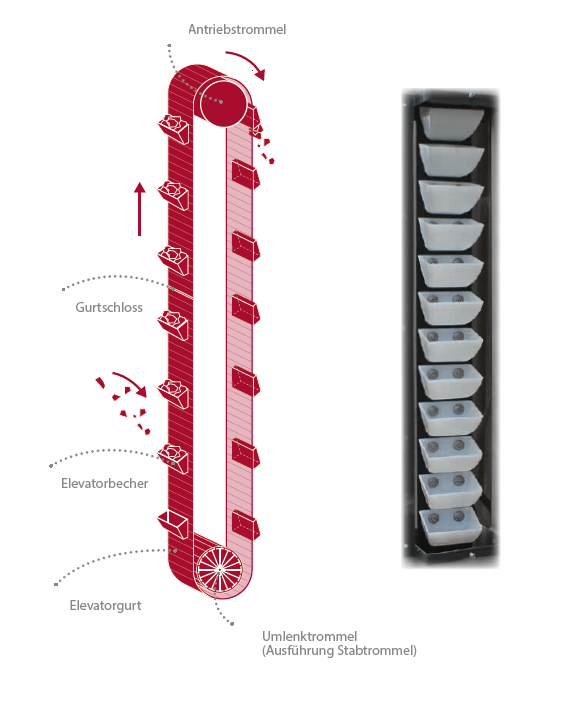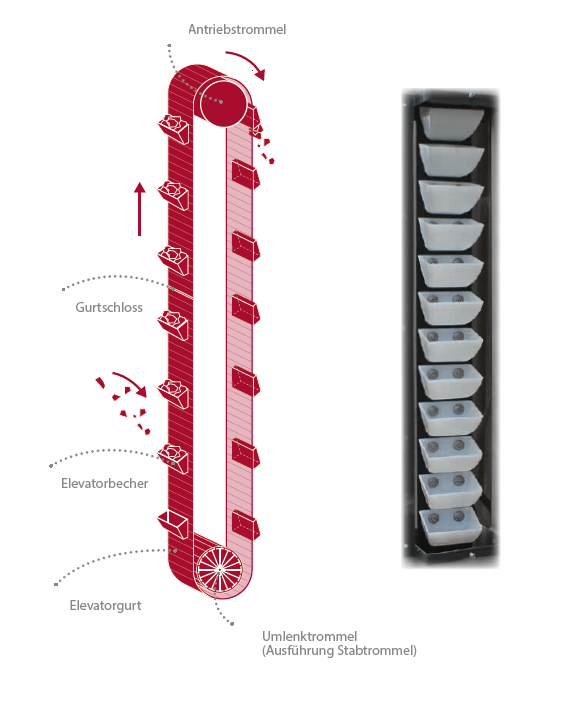 1
Drive rollers
Steel
Stainless steel (V2A / V4A)
with rubber coating (optional)
with clamping set, internal bearing arrangement, flanged bearing arrangement
2
Deflection drums as rod drum version
tapered
With scroll
with clamping set, internal bearing arrangement, flanged bearing arrangement
with rubber coating (optional)
3
Elevator buckets DIN 12531, DIN 15232, DIN 15233, DIN 15234, DIN 15235, System A/B/C
Steel e.g. St37 with and without rubber bottom
Stainless steel (V2A / V4A)
Plastic / Nylatron
Tinplate, Aluminium
galvanized, enamelled, primed, bare
Special design possible
4
Elevator belt
Rubber or PVC/PU belt
Normal quality
Oil and grease resistant
antistatic
According to food standard FDA / USDA
5
Accessories
Cup screws
Rubber cup pads
Flat half-round strips
Elevator belt lock